The X-Twin is an Air Hogs R/C plane released in 2007. This plane later became a member of the Jet Set. It is not a plane to do tricks with and only flies in a 100 foot range but this plane is ideal for beginners that want a cool jet. It is also very durable as said previously: it is ideal for beginners.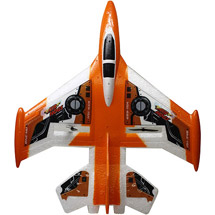 If for some reason it breaks you can just use tape and school glue and fix it to be good as new. There are 4 versions of this plane: blue, black, black with stickers, orange with air force stickers and orange with stickers(pic in template).
gallery/sideshow
Edit
more coming soon.
___________________________________
I have gotten R/C planes in the past, one of them the whole nose broke off(it was not air hogs), then I got the X-Twin and It flew better than any other I had got and even when I rammed it into a stone wall 10 times it just got a scrape of paint chipped of which I fixed with some glue! It is the best plane ever for first time R/C fans that want something that looks cool
Ad blocker interference detected!
Wikia is a free-to-use site that makes money from advertising. We have a modified experience for viewers using ad blockers

Wikia is not accessible if you've made further modifications. Remove the custom ad blocker rule(s) and the page will load as expected.